Windows XP Professional SP3 x32 June 2012 + SATA Drivers

Description:
This is the original Windows XP Professional SP3 (32-bit) ISO from Microsoft. Including Microsoft updates till 13.6.2012 Internet Explorer 8, Windows Media Player 11 and SATA drivers.

This release is the best you could find on the net, because it's just simple:
* NO tweaks or add-ons.
* NO additional programs and software added.
* NO graphics, scripts and wallpapers added or changed.
* NO serial needed during installation, the key is already inserted.
* It's just the original image from Microsoft except updates, IE8, Adobe Flash Player (11.3.300.257) and SATA drivers!
* Windows Messenger, MSN Explorer and Internet Explorer 6 were removed.

System requirements:
* Pentium 233-megahertz (MHz) processor or faster (300 MHz is recommended).
* At least 64 megabytes (MB) of RAM (128 MB is recommended).
* At least 1.5 gigabytes (GB) of available space on the hard disk .
* Video adapter and monitor with Super VGA (800 x 600) or higher resolution.
- Hashes of ISO file:
* CRC32: 823C508C
* MD5: 29B3DF59C0246F51F38D481A41235E37
* SHA-1: 3A1060E40BDD985ACFA01FF1D8B13005A15442DF

How To Use:
1. Burn ISO to DVD & Install
or
2. Follow the steps I made in the image below.
-Extract/ unrar ONLY the part 1.rar and automatically create full ISO files.
-Double click Windows XP Professional SP3 x32 June 2012 + SATA Drivers [phrymeskillz].iso (make sure PowerISo is installed in ur PC. The ISO file will open and see image below to burn into CD/DVD.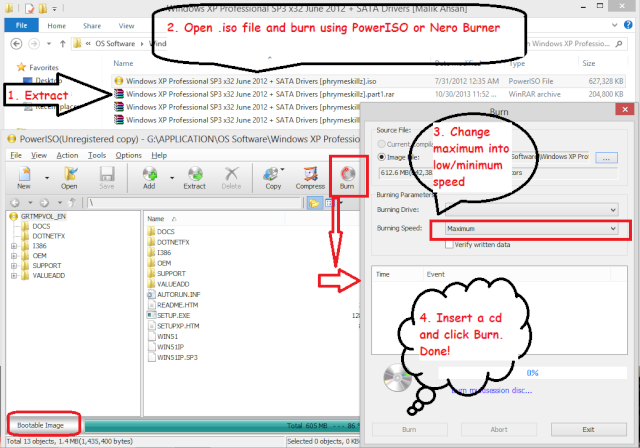 3. Enjoy!!!

Don't Forget to Say Thanks and Feedback/ Comment below.


 Password: phrymeskillz

thanks!!!

vanheartnet
(Online-Tech ADMIN)

   Just a simple
"LIKE"
for my Helpful Threads


 Im Happy to serve you all with ONLINE-TECH

-Thank You very much!!!!



vanheartnet wrote:thanks!!!

 
you're welcome sir Van! 





Similar topics
---
Permissions in this forum:
You
cannot
reply to topics in this forum